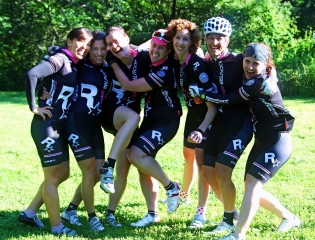 Imagine going to your first bike race with your own personal coach guiding you every step of the way.  That is the CRCA Women's Racing Clinic experience.
Every year, the Century Road Club Association or CRCA – New York City's largest bike racing club – offers a clinic specifically geared toward expanding the community of female racers.  It is an event organized by women for women.  This year, the Rockstar Games/Signature Cycles women's racing team joined forces with the Radical Media racing team in running the event.  There is an informational session component, where seasoned racers try to demystify the sport by speaking on topics ranging from nutrition to how to launch a successful attack.  But, the biggest draw of the Clinic is the simulated race in Central Park.  This is where participants, many of whom having never raced before, get a trial-by-fire introduction to the sport.  It is an opportunity for novices to try racing in a semi-controlled and less intimidating environment.  Many of our local female racers, myself included, caught the racing bug at the Clinic.  Have you heard of Evelyn Stevens?  If not, look her up.  She'll be competing in the London Olympics, and got her start at our Clinic!
Clinic participants ride 3 laps of Central Park in real race conditions.  There are moto-pacers, primes (intermediate sprints for prizes), and the women's field can be neutralized when the men's fields are passing.  However, unlike a real race, experienced racers ride alongside the participants, coaching and encouraging them throughout the race.  This year, almost 40 women registered for the race.  Attacks came early and often, and the pace remained high for the duration of the 18 miles.  While many attacks were pulled back by a strong field, in the last lap, one woman managed to break away from the pack with two other riders.  The threesome worked together for much of the last lap, until the same woman jumped from her breakaway group and maintained a solo effort to the finish.  There were attempts to bridge up to the breakaway group, and there was a very exciting field sprint for 4th place.  Riders who were dropped early on were encouraged to work together to try to chase back to the main field, and everyone finished the race safely.  We then gathered for a post-race recap and Q&A session.  Some fantastic prizes were awarded to the top finishers and winners of the prime, including a bike fit from Signature Cycles and a jersey signed by Evelyn Stevens.  By all accounts, from participants and seasoned riders alike, it was a fun race and a tremendous workout.
Part of the mission of the Rockstar Games/Signature Cycles women's racing team is a commitment to be active in events that empower women in and through the sport of cycling.  Our goal is to expose riders to the camaraderie and mentorship that exists in our bike racing community, and to meet and recruit new racers.  With events like the Clinic, where women are mentoring other women, it's no wonder New York City has such a strong contingent of female racers.
Check in with the Rockstar Games / Signature Cycles Women's Team at their Facebook page.
Photo credit: Marco Quezada.