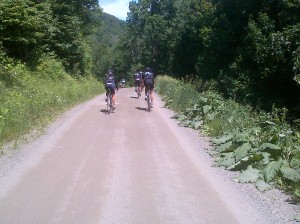 HANOVER, NH – Signature Cycles sent a team up to the 2012 North East Rapha Gentlemen's Race near Hanover, NH.  For those not familiar with the RGR, it's an unsanctioned and for the most part, unsupported ride, that is historically off the charts in terms of difficulty. The team that finishes with the fastest time wins the race, but it only counts if you finish with your full team.  The ride, by nature, is a cooperative one – no one gets left behind.  The winners go home with some nice Rapha gear and glory.  There are teams of all men, all women, co-ed, tandems, and single speed.  While we did not see any single speed teams at the start, we did see one guy involuntarily become his team's token single speed rider due to his derailleur lying in pieces on the road.
We received the route details only days before the race, confirming that we would be doing 13,000ft of climbing over 120 miles on mostly dirt/gravel paths through rural New Hampshire/Vermont. It was rumored to be the most challenging ride of our lives.  In this regard, the route did not disappoint.  Our team, including Rockstar Games/Signature Cycles team riders, Lucia D, Stephanie B, Laurent G and Paul Y, set off just before 8am in already warm conditions.  We were seeded 9th out of 27 teams based on our projected combined fitness level and awesomeness factor.  The first 20 miles led us through rolling paved roads and some gorgeous hard pack trails in the back woods to soften up the legs.  Then the suffering began in earnest.  Essentially, the rest of the ride was unrelenting steep pitched climb after equally steep pitched descent on rough pavement at best, and loose sand peppered with rocks at worst.  At the lunch break (about mile 55) the race organizer told us that the really tough part was yet to come in the next 40 miles.  (Wait, the part we just did was not the toughest part?!)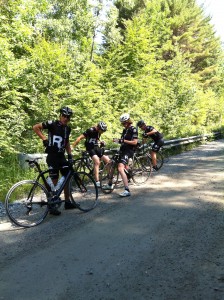 More of the same (only longer and steeper, it seemed) followed lunch, as we greeted other teams we passed and those who passed us.  Spirits were high throughout the day despite the ridiculous terrain we were riding through. The nice folks at Stravaset up a tent with some refreshments at the top of one particularly brutal climb, where we drank some of the best orange soda of life!  At mile 70 was the KOM/QOM – essentially a 2 mile staircase of sand and rocks (difficult to hike up, let alone ride on road tires).  I still can't believe Laurent was riding standard road cranks with a 12-25 cassette!  At the top, we were rewarded with some gentle rain droplets… until the droplets turned into a full-on torrential downpour with thunder and lightning, and what felt like a 30 degree temperature drop.  Our challenging dirt paths turned into raging brooks of muddy water and puddles of death!  Still, the teams pressed on (even those on tandems)!  By mile 90, teams were being diverted onto a shortcut due to road conditions even more treacherous than the organizers were comfortable with.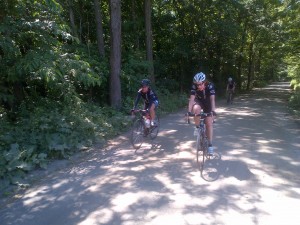 At the finish, our team had ridden over 100 miles, and as the script would have it, the sun came out, the warmth returned and we enjoyed some post ride BBQ and beer, sharing war stories with fellow participants.  Miraculously, our team had only 1 flat the entire day!  Even better was the fact that despite the brutal road conditions and extreme weather, everyone made it back safe (minus a scraped knee or bruised ego or two).  I also have a feeling our bikes will see nothing but smooth asphalt for a week or two.  While we did not win (9W Magazine – made up of fellow CRCA racers took the top prize – a car full of beer), we certainly had a tremendous day of team suffering and bonding.  A truly amazing experience.  If invited back next year, cyclocross bikes will be on the packing list!