HARLEM SKYSCRAPER CLASSIC – Marcus Garvey Park, NYC
We had a great weekend for racing with very favorable weather and a really nice turnout by our Rockstar Games / Signature Cycles team riders.
The Cat 4 team worked nicely with Stefan getting off the front on a couple occasions, as did Wilson, Mikael, and Peter. Aaron took an early prime, and while Mike N, Robert, and Laurent were all present at the front, we just couldn't get past a late race crash to crack the top 10! Many of the races on Sunday saw their share of crashes, a couple of which either snagged one of our riders (like Stefan, late in the cat 4 race) or forced us out of the action (like major pile up on last corner which thankfully Mikael missed, but just barely).
Joe Straub, Scott Hodder, Steve Suto, Brian Wolf, Guy M and Mikael H lined up for the Masters 35/45+ field.  Joe finished an excellent 6th place in the 45+ and Brian was 13th. Speeds in this race were pretty high, regularly exceeding 29/30 mph on the two long straights. Steve Suto caught one of the crashes in the masters race on his handlebar camera (Mikael Hanson is the Rockstar rider on the white bike in the video):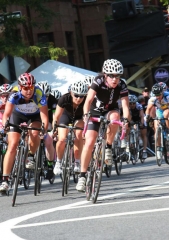 Cheryl, Emily, and Stephanie lined up for the Women's race. It was fun and fast event with Cheryl finishing very strong in 7th place. Emily rode very strong; she was at the front and strung the bunch out single file, keeping the pace high. Speaking of Emily's strong riding, she caught the eye of a photographer for Cyclingnews.com (photo courtesy Marco Quezada,
nyvelocity.com
).
New Bethlehem Criterium
Brian and Cheryl Wolf also went down to Bethlehem, PA for the New Bethlehem Criterium on Saturday. Cheryl raced the women's open race and scored an excellent 2nd place! Brian raced the 45+ masters race.  Three guys were up the road at the finale and Brian got 7th in the field sprint for 10th overall.