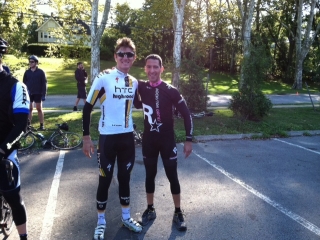 Jeffrey Lesser is in his second year on Team Rockstar Games / Signature Cycles. Based in Fairfield County, CT, he races regionally in the category five field and is consistently in the hunt for the podium and the win. We're looking forward to seeing what Jeffery can do for the team at the Tour of the Battenkill this weekend!
What was your first bike?
My first race bike was an aluminum Klein (orange sparkle). I bought it on my 40th birthday while driving home from work.
Describe your first race.
It was the Tour of Greenwich in 2008. Once the race started, it seemed like everyone passed me. By the time I got to the first climb, I was already by myself. I think my finish time was 1 hour 28 minutes. Even a guy of a mountain bike passed me! This race showed me how difficult and competitive road racing can be. I didn't like the feeling of finishing the race and seeing everyone standing around with their bikes already packed up in their cars. I then realized in order to be successful in road racing; I had to have a training plan. This was an important first step for me.
Describe your best racing moment.
Tour of Greenwich 2011. I won the second heat. This was my first win. At the half point of the race I broke away and was caught. I repeated this 2 more times and then decided to sit in and wait for my last strategy, a sharp right handed turn near the finish. As a side note, Paul Levine taught me to watch riders' helmets. If they sag downward, it means the riders are tired. They all looked tired. The second to last turn is very sharp with a lot of manhole covers. Most riders brake heavily in this turn. I waited in third position and just before this turn, I sprinted out of the peloton and went full gas through the turn. I had practiced this many times so I already knew my line. I continued to sprint giving it 100% until I had a big gap. I then sat down, went into the drops and buried myself in pain! I knew it was about a 2 minutes "all-out" effort to the finish line. I kept telling myself…."dig deeper, breathe and keep it steady but really hard…you won't remember the pain once you finish". I never looked back and crossed the line in first.
Favorite racing discipline?
Road racing
Favorite post ride meal?
Recovery drink, 3 eggs, bagel, banana, soy milk.
If you had to choose 3 things to take with you on a ride, what would they be?
Spare tube, co2 cartridge, water.
What is your favorite ride or route?
With my daughters in our neighborhood.
If you could go for a ride with 1 person dead or alive, who would it be?
My dad. We never rode together and he is no longer with us.
What brought you to Team Rockstar Games / Signature Cycles?
I have a lot of respect for the entire team at Signature. I wanted to be a part of a great organization. The kits are really cool too!
What is your favorite thing about cycling?
Riding my bike makes me feel like I'm a kid again. As an adult with lots of responsibility, I don't often get to have fun. Training and racing is challenging, rewarding and most important, tons of fun.