by Mikael Hanson,
Enhance Sports
With temperatures hitting the 50s and higher already in February, perhaps we are all thinking that winter has forgotten us this year as we begin to eye time in the saddle out on 9W. I have already been up to Piermont or beyond several times this year, and as much as I want to jump on that occasional train of riders flying past me at 28mph, I force myself to resist the urge, remembering that the calendar barely says February.
Sure, competing in the Sunday world championships a la the 'Rocket Ride' over in NJ seems like a great idea for these very non-winter like conditions, but there will be plenty of time to do that after you've spent some quality time in the saddle accumulating those all important BASE miles.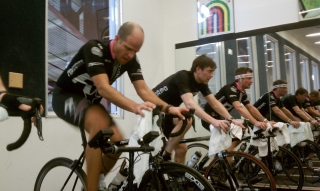 Every macro training calendar needs to be approached with careful consideration. We must walk before we jog, jog before we run, and run before we sprint – especially if you are like me and find yourself on the wrong side of 40 years old!
For a cyclist (or even triathlete), base training typically lasts 3 to 5 weeks where one's main focus is to develop a foundation of aerobic fitness that will allow you to perform at higher levels later in the season (without the onset of injury). How long your own base period lasts depends on where your current level of fitness lies and when you're racing season begins. For myself, after a fall of riding with the NYU cycling team, I found my early 2012 level of fitness a bit higher than in years past. I really didn't take much time off around the holidays and as a result, kept that off-season weight gain to a minimum. That being said, given that my own season won't start until mid-April, my base period will likely last the month of February and into early March, before I begin to consider moving to Phase 2 (race specific fitness – a topic for later).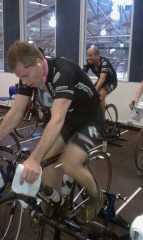 My base period always begins with a lactate threshold or 20 minute field test so I have a better understanding of my current level of fitness. My numbers for this year proved to be about 10% higher than this time in 2011. From there I can construct my training zones in terms of 3 key factors: watts, heart rate and perceived effort. As far as training goes, I target riding 4 days a week right now (keep in mind I still compete in multi-sport races so this is on top of 3 runs and 2 swims per week). I would suggest the pure cyclists focus on 5 days of riding with continued visits to the gym for core work. Two of those days will be 2-3+ hour endurance rides where the objective is to stay in zone 2 or 3 for the entire ride. This may be a jaunt to Piermont or Nyack with plenty of small ring work at the beginning and end of the ride to focus on pedaling technique and maybe some large ring work in the middle – but I keep to a strict NO ATTACK rule during my base phase!
The other two rides will focus on building power and sub-threshold riding and typically take place indoors (and will begin with 15 minutes of warm-up and 10 of cool down). I will do one indoor workout emphasizing over-gear and fast cadence drills. Over-gear (OG) is essentially pedaling a larger gear (harder) where cadence is around 55 to 65 rpm. AT this point in the season target training zone for the over-gear sections is zone 3 or moderate intensity. I follow up an over-gear section with Fast Cadence (FCAD) work, where one's pedaling cadence is 100+ rpm and effort level drops down to zone 2. Right now my longer sets are 5-7 minutes of OG work in zone 3 (10-15% below my threshold in terms of watts) followed by 3-4mins of FCAD. Or I will look to do shorter efforts of 3min OG by 2mins FCAD with my OG effort closer to my threshold (zone 4). Total time for these efforts should be 45 to 60 minutes.
My second indoor ride is a sub-threshold ladder done close to my regular race rpm (for me that's 95rpm). Such a workout might look like this: 6 minutes at 90% of threshold followed by 3 minutes of high rpm recovery, then 5min at 95% (2.5min recovery), 4min at 100% (2min recovery), 3min at 105% (90sec recovery), and 2min at 110% (1min recovery), for a total of 30mins. Repeat once or twice through.
Only after you have done your time in the Base Period should you think about increasing the intensity of your efforts to race pace or above. When in doubt, take a good long look at the calendar – are you training for March world championships or a full season of success? I am guessing the later!