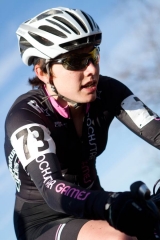 As it turns out, racing after working four days straight outside in Wisconsin with minimal sleep and living out of a hotel is …. well, hard. Add in the fact that you're starting in a race with
Katie F*^$@ing Compton
, and are relegated to the second to last row behind 80 other women, and that's when you start praying for a miracle.
Anyway, Elite Women's Nationals are no joke. On the start line, you had Katie Compton, Meredith Miller, Nicole Duke, Kaitlin Antonneau and plenty of other hard-hitting ladies. There's something amazing and truly incredible about having this many women at this level lining up at once. I'm not sure exactly, but I believe the numbers have exploded in the past year where the women's fields are concerned.
So it was both awe-inspiring and terror-inducing, all at once. And before I had time to sneak out of the field, the whistle blew and we were off.
There was a long stretch of pavement before we hit the dirt, and I knew that if my race was going to go well at all, that was where I needed to make up spots. So, steeling myself, I careened into the crowd, hands nowhere near the brakes, slipping in between as many women as I could before hitting the small hill onto the dirt. Of course, the woman in front of me crashed in the dirt, but even after putting a foot down, I had so much adrenaline pumping that I managed to ignore how terrified I was by the course conditions- permafrost with slick mud over top, and power through as much of it as I could, blowing by women I knew I could be beating.
I was lucky that two minutes in, there was a false flat followed by the first tough climb on the course. Thankfully, my big ring mentality helped to put down serious power through the mud and make up a few spots, and I got up the hill where others stalled out.
"No brakes" was the mantra of the day, especially on some of the slick roller-coaster downhills. At one point, I had finally caught up to my "nemesis" of the season, only to get epically taken out in the slick corner before the barriers: another girl took it too hot and I went directly into her, destroying my hip in the process. It took nearly a lap before the cramp started to work its way out of my side, but once it did, I was back to chasing.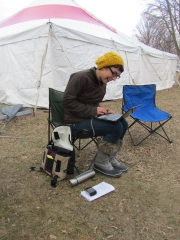 I finished my race a couple of laps behind the leaders, but with women that I was proud to finish near. Do I wish we'd gotten another lap? Heck yeah! If I'd known I was going to get pulled, there would have been much more carnage (mostly to myself) as I raced that last lap.
In all, it was an experience to remember. And I can't wait for next year, though I admit to breathing a tiny sigh of relief as I hung up my good cyclocross wheels for the season.
After the race, in the Media Center (because us reporters only have time to change before getting back to work!), I had a fellow cycling news guy come up to me and tell me that even if I didn't get first place, I got the prize for the most badass, aggressive look of the field. I credit the sweet Rockstar skinsuit, along with what must have been a look of sheer irritation at not being able to pedal faster.