aka New England Worlds
Gloucester, MA
October 1 & 2, 2011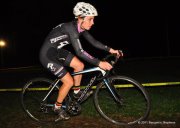 As it turns out, racing as an Elite Woman is hard.
And yeah, anyone could have told me that. Heck, I knew that. But it doesn't really sink in until, instead of vying for the win, I was looking over my shoulder, killing myself in an attempt to not get lapped by the British National Champion who was rampaging through the course.

I didn't get lapped (at any of the UCI races I've done so far, actually), but it's a humbling feeling, going from podium to "not last, not lapped," as my pre-race mantra.
I've been racing for a couple of weeks now in the Elite Women's field, and it's been tough. But it's been fun! This weekend at Gloucester defined the dual nature of my cycling prowess, two back-to-back days that played out very differently for me. And by Sunday, I finally started to feel like I belong in the Elite field, even if I'm nowhere near the front of the race … yet, anyway.
Saturday's course was more technical, with some seriously slippery corners and a few sections that the top of the field easily rolled over but less experienced riders like me had to run. It also featured a whole host of off-camber, extremely muddy turns, which are essentially my personal Kryptonite. Without UCI points, I was relegated to a back row starting position, which meant that I was started out with a severe impediment to my racing even before the whistle blew.
I was off the back before I even knew what happened, and the rest of the race was just an attempt to not get last and not get lapped. I managed both of those goals, but by the skin of my teeth. And as with most technical courses, I finished feeling like I had barely raced, despite how many times I had to dismount, run and remount.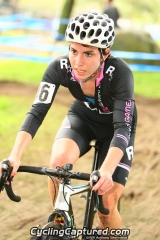 It was muddy and cold all morning, but the sun came out just in time to make our race miserably hot. Still, it's cyclocross, so it was fun regardless.
I finished without getting lapped and escaped being last, but I wasn't feeling too great about my race. The technical sections threw me off, and the lead I had on two of the women I was with was ruined after a slip on an off camber right near the finished destroyed my chances of staying ahead of them.
Sunday's race was a different story, though a similar course. The layout was more conducive to power as opposed to technical skills though, and doing warmup laps, while I still had problems on sections that were 100 feet straight – corner – 100 feet straight – corner, et cetera, the course was much better suited for me. There was also a screaming downhill onto the beach, and if it hadn't been for some great friends helping with my sand riding, I would have been in trouble. As it was, I went down sans brakes and flew into the sand, almost making it across before having to dismount to run up the long flight of wooden and stone stairs.
Again, with a back row start, I didn't have much of an amazing start, but I managed to stay with the main group for much longer than the previous day's race.
During the race, there were so many people cheering for me, it was incredible. I got passed by one woman but passed a few, including some women who I had on my list of women I wanted to be around when I raced, preferably to beat them. The finish was a long uphill stretch of road, and I even managed to outsprint one woman… for 35th place, but a sprint is a sprint!
Afterwards, it was seriously heartening to hear a lot of people tell me that I looked stronger on the course than I had in previous races, and that I had looked like I knew what I was doing. I think I'm finally starting to get the hang of this, and you can tell in the pictures from the race- instead of smiling because I'm hanging out in the back and finishing near last, I've got on full race face and I look angry, like I'm ready to catch that girl in front of me. Hopefully, next race, I'll catch a few more. We'll find out tonight at Night Weasels, a technical, muddy race that won't happen until after dark. Wish me luck!