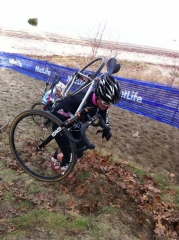 The Verge Mid-Atlantic Cyclocross Race Series is always very competitive. Racers from all over the East coast, and commonly farther than that, come to compete against one another from September through December. First-year Rockstar Games / Signature Cycles team member and first-year cyclocross racer, Lucia Matioli, finished up her season on the top step of the Women's B division podium in this year's Verge MAC Series. She's a tough racer, which is obvious if you know how tough 'cross can be. She's also famous for the faces she pulls when she's out there killing it. Here's a bit of insight into what makes Lucia want to get up early in the cold and dark to go race her bike around in the mud . . .
What was your first bike?
Blue Metallic Schwinn Stingray with sissy bars.
Describe your first race.
I think it was the Sea Otter Classic in Monterey. Mountain bike, it was a foggy damp day. That's all I can remember. And that is was a ton of fun and I wanted to do it again.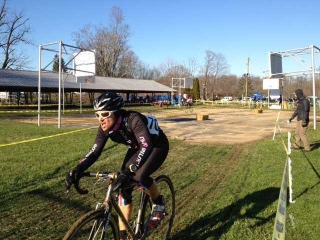 Describe your best racing moment.
Winning Limestone at the Kiln and Clinching the MAC series this year. It's amazing when you have those times racing/riding where you feel strong and fast and on your game, and have those "is this really happening, and am I really leading?!" moments. I felt more of that the end of this series. It felt really good and I was really proud of my level of advancement.
Favorite racing discipline?
Cross. I am completely addicted and obsessed. It's so fast and you never know what will happen. Ever. Each course and race give an opportunity to learn more about racing and yourself as a racer. You might be off your game, suffer a mechanical, pick the wrong line over and over until the final lap, or just have people who are faster than you, to inspire and to push you harder. It's both a physical and mental sport. I like the mix of both. It's the perfect sport. Plus all of the spectators and the community. The community and camaraderie builds up fast.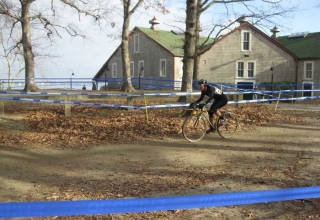 Favorite post ride meal?
Vegetable Burrito with guac and hot sauce from Great Burrito. Or really good Mexican in general.
If you had to choose 3 things to take with you on a ride… what would they be?
iPhone, good company, tubes and CO2 cartridges
What is your favorite ride?
Oyster Bay.
If you could go for a ride with 1 person dead or alive, who would it be?
Laura Van Gilder. I have so much respect for her. She's such and inspiration and idol for me. She kicks so much ass out there.
Why did you want to join Rockstar Games / Signature Cycles?
I love everyone at the shop. Everyone is so helpful and has such good energy. Plus you guys gave me the opportunity to race for you, just by asking. It wasn't this competitive audition, but it was something that seemed to align easily and comfortably. Plus I don't want to ride for a team with too much pressure, I put enough pressure on myself.
What is your favorite thing about cycling?
There is too much to list. My least favorite thing is riding when my hands and feet are frozen. That sucks.