New Britain, CT
July 10, 2011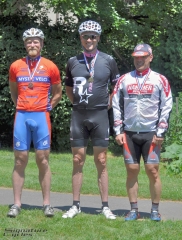 As a prelude to this race report, I would like to give you a quick synopsis of Brian and I. Brian has been racing his bike for 30 years. He was fortunate enough to win his first race and has been hooked ever since. He has over sixty victories and double that amount of podium finishes along the eastern seaboard from Maine down to Pennsylvania. Our trophy case is full of trophies and gold medals that Brian and I have accumulated. Brian has also won 20 championship jerseys from various events throughout the years.
I first met Brian 12 years ago. I followed him around the 1st year we were dating and watched him race in 9 different states. I then decided to buy a racing bike and get into the sport. I never did any sports before.
For the 1st year I experienced being lapped multiple times and being dropped regularly. All the while Brian remained patient and encouraging, and coached me to remain positive, that better days were ahead. I finally won a race my 5th year of racing. I remember that race vividly. I had good legs that day and took a couple of primes. Brian was on the sidelines. He yelled at me to attack on the last prime and I took off and held it for three laps and won.
Brian and I have fun racing and training together. Due to small or nonexistent women's fields, I have learned to race with Brian in his fields. I have grown accustom to being the only woman in the race.
Fast forward to the New England Regional / Connecticut Championship race. That day, while Brian and I were warming up, we were aware that the field was very strong. It included teams with very good sprinters and a former teammate of Brian's who is a breakaway rider and a previous bronze medalist at the national criterium championships. Everyone in the race knew that he was going to breakaway.
Early in the race he got away and stayed away for around 30 minutes and had up to a 35 second gap on the field. Teams were working hard to bring him back. Brian took his turns in single file rotations at 30 miles per hour for eight laps until they brought him back with four laps to go. Brian was able to get to the front in the last lap and sprint for second place. He was the first Connecticut rider and he won the gold medal for the State Championships. He has won this championship numerous times in the past and I was very happy to be able to be a part of his victory this year.
Bike racing is a lifestyle for both of us that we enjoy very much. We take great pleasure in each other's successes. The Rockstar Games and Signature Cycles Team has been a very harmonious fit for both of us and we like representing them at the races.
– Cheryl (and Brian) Wolf