2014 brings on many exciting changes for the Rockstar Games / Signature Cycles Racing Team. 
The unforgiving East Coast weather, has sent many Tri-State riders West, for warmer climates and clear roads. For our first post of 2014 we check in with Lucia Deng, Captain of our NYC  Based Women's Team, for a first hand look, at what riders are doing to get them selves in racing form for spring!
By February, I had lost track of how many hours I'd logged on the indoor trainer and which alphabetical snowstorm name we were up to – Pax, I think? Northeast winter race training is always a challenge, but you know it's especially bad when you start having to cancel indoor team training sessions due to weather. The only possible remedy: warm weather training camp!
After some flight cancellations, courtesy of yet another winter storm, I finally arrived in Los Angeles for Part I of my West Coast adventure.  Staying in Marina del Rey, I was able to enjoy a few days of riding in the Malibu canyons with some fellow NYC racers.  Malibu offers some fantastic long, but gradual climbing not far from the coastline.  Rides typically start and end along the iconic Pacific Coast Highway or PCH, and wind their way up and over the Malibu ridges, netting you about 2000ft of elevation gain per pass.  One of my favorite things about riding in LA is the view of the ocean and the feel of the cool Pacific breeze, which propels me as I slowly pedal up the quiet canyon roads.
Popular routes not to be missed in the LA area: Latigo Canyon, Yerba Buena, Piuma, Topanga/Old Topanga, Mollholland Hwy, and for an easy recovery day, Mandeville Canyon.
My second favorite thing about LA is the food – the abundance of fresh and locally sourced options.  Oh, and the miles of beaches along Santa Monica and vibrant shops and restaurants on Abbot Kinney Blvd are certainly among the highlights as well.
This year, Part II of my trip was a self-supported Rockstar Games / Signature Cycles Racing Women's Team camp. Our teammate, Shane, grew up in Ventura County, which offers acres of citrus and strawberry fields, miles of beaches, and many strategically located coffee and dessert shops.  Shane's parents are huge bike racing fans and have hosted several professional squads over the years, such as Jelly Belly, Vanderkitten and TWENTY16 Pro Cycling.  Along with their usual roster of professional bike racers, Shane's family graciously offered to host us for a week in their ranch.
Our rides in Ventura ranged from easy breezy out and backs along the coast between Ventura and Santa Barbara with cupcakes and coffee stops, to some seriously steep climbs, like Sulphur Mountain with dirt sections thrown in.
Of all the rides we did, one of our most satisfying was the ascent up Gibraltar.  This 6 mile climb averages at over 8% grade with several sections exceeding 10%.  As if that weren't enough, because you are exposed to the sun for the entire climb, the endless switchbacks and gradient felt even more unrelenting.  At the top, however, we were rewarded with magnificent views of the continuous inland mountain ridges, and the sweeping canyons down to the coast.  Definitely worth the effort.  The rather rough pavement, narrow and windy road also made for good bike handling and hand strength practice during our descent!
And of course, no training camp is complete without good rest and relaxation.  Here's one of the many gorgeous views in Ventura: watching the sunrise over the lemon and avocado trees at the ranch.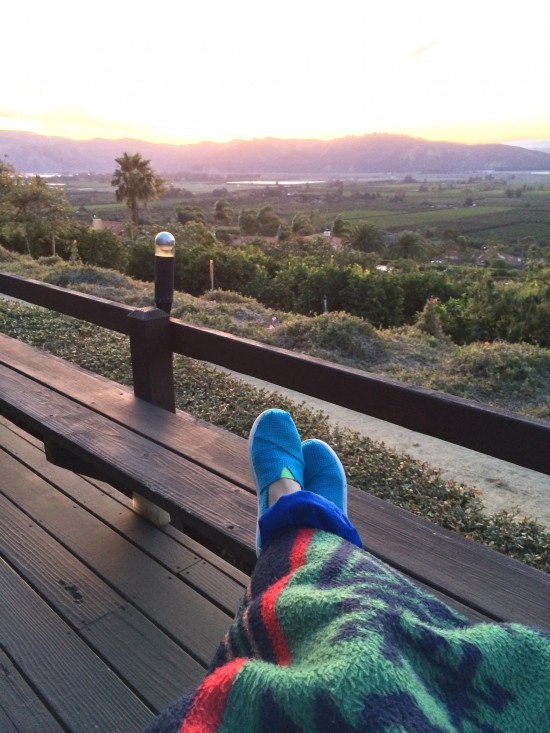 Rejuvenated from our trip, we're ready to attack our first races of the season, which are just around the corner!  And for all of our sakes, we're hoping some of that mild California weather follows us back east.  Here's to a fun and safe season of riding and racing in 2014!